If the Gibson J-45 is known as a workhorse acoustic, the SJ-200 is something else. This giant of a guitar is a thoroughbred, large of size and sound, stunning in looks, and is known by guitarists the world over as King of the Flat Tops...
All Hail King of the Flat Tops!
Although it first appeared in Gibson's catalog in 1938, the first SJ-200s were crafted in '37. So let's throw that 80th birthday right now. After all, the J-200 is probablythe most famous acoustic guitar ever built. And much of the reason for that is, like it or not, visual.
With its 17-inch-wide body, the original Super Jumbo was bigger than the biggest. Louder than the loudest. Fancier than the fanciest! With its floral pickguard, mustache bridge, and "crest" fingerboard inlays, the SJ-200 made a more flamboyant aesthetic splash than any of its competitors. Then, and now.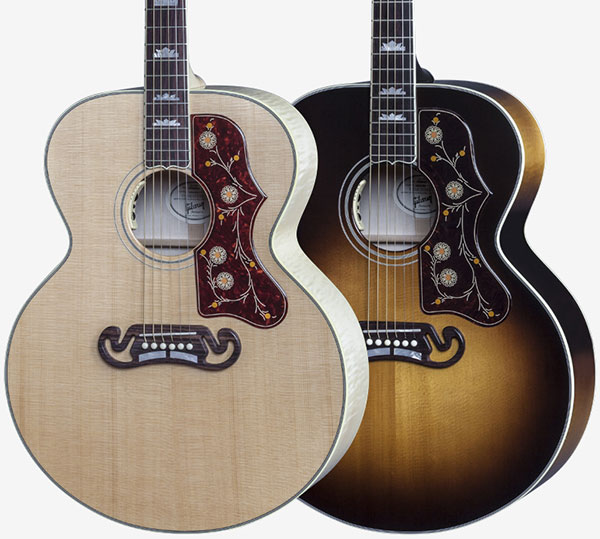 It was initially offered by custom order only and built at Gibson's Kalamazoo (Michigan) plant, and was a hit with the singing cowboys of the day. Ray Whitley had the first, and before long, Gibson catalogs featured photos of Whitley, Gene Autry, Ray "Crash" Corrigan, and Tex Ritter with their own personalized "Super Jumbos", as they then were called. Before long, this showy peacock of a guitar had a standardized design and name — simple Gibson nomenclature reflecting its price — and was sold as the SJ-200. An additional $50, and you could have your name inlaid in the fingerboard. Even with that, $200 in 1938 was big bucks and the SJ-200 models remain reassuringly expensive today. After, all - it's the finest of the finest.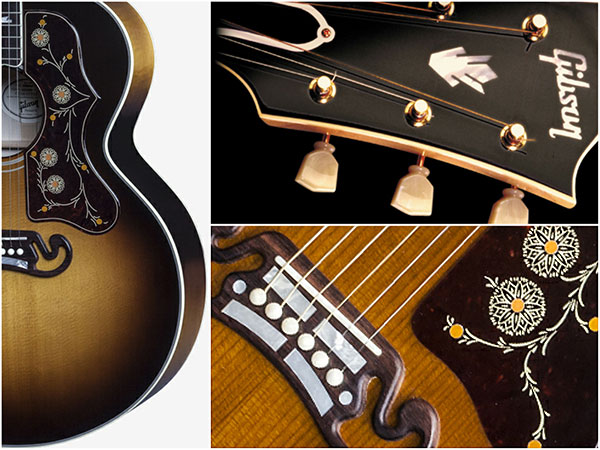 But what a guitar you get. It's pretty standard in terms of construction — sitka spruce top, curly maple back and sides (pre-WWII back and sides were rosewood), rosewood 'board etc — but the SJ-200's extra flourishes of bridge, inlays and all that handcarving, not to mention the sheer size which shows off the wood grain, and you have a unapologetically macho acoustic. With a sound to match.
Such is the SJ-200's impact, that you'll never confuse it for another acoustic (except its own variations). Indeed, it's probably the only acoustic ever to have the kind of rock 'n' roll chutzpah normally reserved for hallowed electrics — in Gibson's family of great guitars, it really is up there with the Les Paul or the Flying V and the SG.
SJ-200 Players
The list is a who's who of icons, master musicians, baddasses and, oh yeah, poseurs. But that's what Kings generally are!
Naturally, the "King" had his own King of the Flat Tops. Although the main J-200 Elvis Presley played in the '50s (shots for Jailhouse Rock, throughout King Creole and G.I. Joe, numerous live and television shows) was actually acquired for him by fellow Gibson legend, Scotty Moore. Why? Manager "Colonel" Tom Parker wouldn't allow Elvis any instrument "endorsements" and got Scotty to do the buying.
Elvis had a few — the most famous with his name inlayed on the 'board and with a tooled leather cover custom made by his friend Charles Underwood — and he continued to play J-200s up until the early '70s. His customized J-200, and its Underwood made cover, are part of the permanent collection on display at Graceland.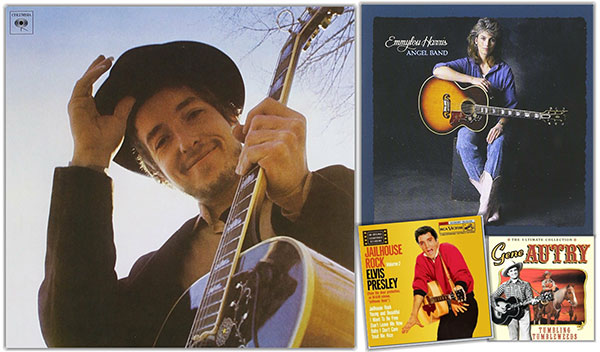 Jimmy Page has played J-200s extensively. "Your Time Is Gonna Come", "Babe I'm Gonna Leave You" and "Black Mountain Side" (from debut album Led Zeppelin) are on a J-200, supposedly borrowed by "Little Jim" from fellow '60s Brit session ace "Big" Jim Sullivan. "It was a beautiful guitar, really great," Page later remembered. "I've never found a guitar of that quality anywhere since. It had heavy gauge strings on it, but it just didn't seem to feel like it. I could play so easily on it, get a really thick sound."
Pete Townshend's J-200 is his defining Who acoustic. He wrote "Pinball Wizard" on his J-200, which starred on most all recordings beginning with The Who's Tommyalbum. "I picked it out from about five at Manny's in New York in 1968," Townshend told Gibson.com. "It had a crisp sound and an easy neck. It was only later I found how well the J-200 records when you play it hard. Like the Everly acoustic [the J-185 — Ed], it has a rather dead soundboard and that allows you to really dig in when strumming. They are hard to bring to life with piezo pickups because the sound is so distinctive in real air, but the body shape, the necks and the sheer strength of the guitar are all very important to me. They also look utterly beautiful." Damn right.
Bob Dylan loves his SJ-200s. Most famously, he holds his on the cover of landmark album Nashville Skyline. In 2015, Gibson issued the Bob Dylan SJ-200 Player's Edition with its own custom spec and the legend's own "Dylan Eye" decal on the headstock and 'board. The Autographed Collector's Edition has even more ornate "Bella Voce" inlays and pickguard. Both are as pretty as Bobby D's voice is rough. (Sorry, Bob.)
George Harrison played a J-200 from The Beatles (aka "The White Album") onwards, upgrading from his Epiphones. "For You Blue", "Here Comes the Sun," "While My Guitar Gently Weeps", "Long, Long, Long" and "Piggies" all feature a J-200. Harrison also composed most songs for his solo debut, All Things Must Pass, on a Gibson J-200. Some Fab experts reckon Harrison's first was Dylan's SJ-200, borrowed, then returned.
Emmylou Harris played J-200s on all most of her classic albums, including Angel Band where she holds the J-200 given to her by Gram Parsons. She later had Gibson make her the smaller-bodied L-200, just as nice as a J-200 but more manageable for smaller hands.
The Edge is a big fan of the J-200, describing it as his "bedrock" acoustic for U2 tracks. He can't resist FX-ing it up sometimes, though — "Love and Peace or Else" from How to Dismantle an Atomic Bomb is a J-200 stuck through effects and played with slide. He recalled, "I tried playing it with an electric and it sounded so off-the-shelf. But miking up the acoustic really made the part stand out in a jarring way. Very cool sound. I'm pretty proud of that."
The Everly Brothers played customized Gibson J-200s on stellar hits like "Bye Bye Love" and "Wake Up Little Suzie." In 1962, Don and Phil got their own J-200 based the Gibson Everly Brothers model, shrinking the body by 7/8-inch, adding an adjustable saddle, and installing mother-of-pearl star inlays down the (mahogany) neck and giving it a double-sided pickguard.
The Gibson Billie Joe Armstrong J-180 is based very much on the Everlys', so the Green Day man's sig acoustic is itself a spin-off of the J-200.
Ron Wood has been a J-200 fan for years, using one for most of his acoustic tracks with the Rolling Stones. In 1997, "Woody" got his own signature model distinguished by gorgeous winged inlays and a wraparound pickguard — they're hard to find, these days.
Add Noel Gallagher, Neil Young, Chris Isaak, the Reverend Gary Davis, Bruce Springsteen, Earl Slick, David Crosby (a Custom Shop special), Ellie Goulding, Alex Turner, Black Rebel Motorcycle Club's Robert Levon Been and Peter Hayes, actor Jeff Bridges, Justin Timberlake and Lady Gaga (that's right!), and being a member of the J-200 fanclub is a cool place to be.
Gibson SJ-200s in 2017
In Gibson's 2017 lineup, there are a number of Super Jumbo options.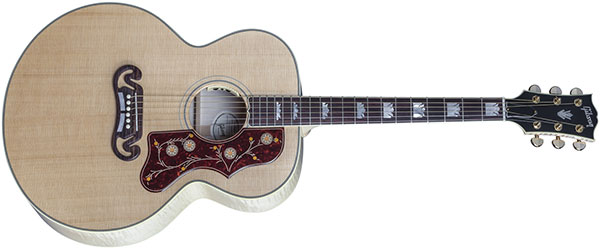 The Gibson SJ-200 Standard is the polished descendent of that first Super Jumbo, though it now has an LR Baggs Anthem pickup system, PLEK setup, Gold Grover tuners — all the modern specs you'd expect. It's available in Natural (pictured) and Sunburst finishes.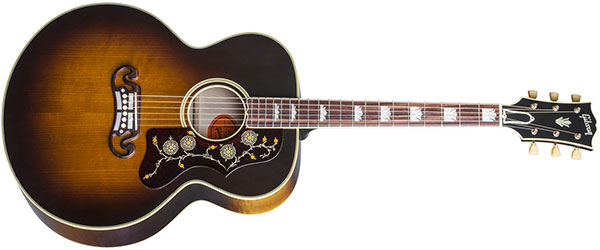 The Gibson SJ-200 Vintage has a thermally aged top, Gibson's own special VOS finish for an aged look, hand-shaped bone nut and Gold Grover Relic tuners. This beauty is in Vintage Sunburst finish only.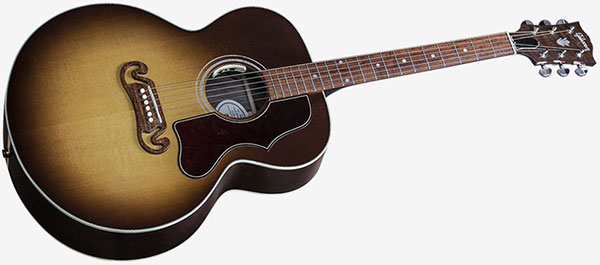 For a different price and flavor, try the SJ-100 Walnut. Different number, but essentially the same guitar, with back and sides crafted from this underrated tonewood, a Granadillo fingerboard with simple MOP dot markers, PLEK steup and LR Baggs pickup. This one comes in a beautiful Honeyburst finish only.
There may still be a number of 2016 Limited Edition models in store. The Montana Gold Mystic Rosewood, Quilt SJ-200s in Viper Blue, Amber Quilt and Autumn Burst are other stunning variations on the SJ-200 theme. Have a look at these Gibson's recent SJ-200s.
Learn more about which Gibson acoustic is right for you...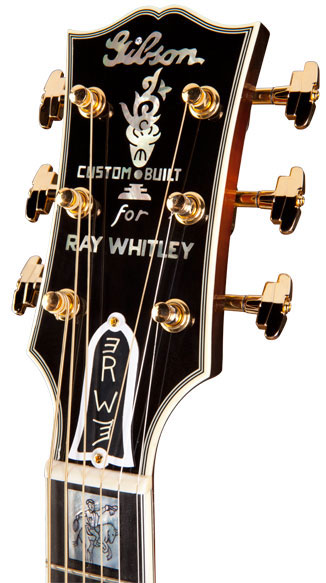 Whip-Crackin' Whitley and the Super Jumbo
Few may know that it was Ray Whitley (1901-1979) who pushed Gibson to design the first Super Jumbo. Whitley wrote the country hit "Back in the Saddle Again" (among others) and starred in 54 movies with Gene Autry. Whitley sold the song "Back in the Saddle Again" to Autry for 200 bucks. Whoops! He was also in Giant, starring James Dean. Whitley had genuine cowboy skills — he could remove a cigarette from a man's lips with a single stroke of a bullwhip, using either hand. Whitley also endorsed another Gibson made guitar, sold by the mail order house Montgomery Wards in 1939 under the brand Recording King.
Gibson Custom made just 37 Custom Ray Whitley models in 1994, and in 2011 commemorated the "Super Jumbo"s pioneer again with his own limited-run posthumous Ray Whitley Special. Both are super rare now. Whitley's own Super Jumbo is on display in the Country Music Hall of Fame in Nashville, just a few blocks from Gibson's Repair and Restoration workshop.