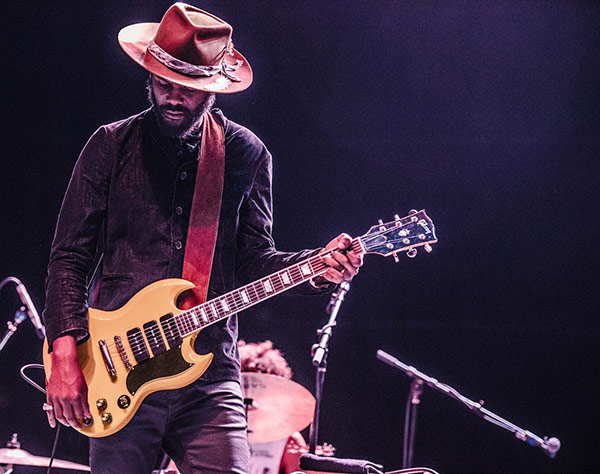 Few guitarists in recent years have been showered with more accolades than Gary Clark Jr. has. Boasting a style rooted deeply in the blues, the Austin-based Clark is bringing new vigor to the genre—injecting funk, R&B, and contemporary urban elements into a traditional blues foundation. A while back, not long after the release of his acclaimed studio album, The Story of Sonny Boy Slim, I spoke with Clark about topics ranging from how he crafts solos to the importance of practice. In conjunction with Gibson's recent announcement of the Gary Clark Jr. Signature SG, we present that interview below, published for the very first time.
You began playing guitar when you were 12 years ago. How did you go about learning?
We were on Christmas break—out of school. The day I went back to school, I went to the library and checked out two books. One was titled "How to Play Guitar," and the other, "Basic Guitar." I studied the chord charts, learning and getting familiar with placing my fingers in the right position, going for it until it didn't hurt any more. Later I started figuring out leads by watching other players. A lot of that came from watching "Austin City Limits" on TV every Saturday night. That's how it started. I also listened to the Jackson 5 and other soul records, plus the jazz and blues records that my Dad listened to, along with stuff on the radio.
Which albums influenced you most?
There were three that changed my life—the Jimi Hendrix compilation The Ultimate Experience, Stevie Ray Vaughan's Texas Flood, and Albert Collins' Collins Mix, which featured later recordings of some of Collins' early hits and some fresh tunes as well. Each of those records was different from the other. Stevie Ray Vaughan was fierce and technical. Hendrix was ethereal and heady, and took me to a place I had never been before. And Albert Collins had such a piercing tone—no real chords, just all improvisation. I studied and learned those records, note for note.
Can you look back and see a particular moment when you found your own style?
That happened when I got my Gibson ES-125. With the 125, I couldn't really play the Stevie Ray Vaughan licks, or go for Hendrix sorts of things. I started learning more jazz chords, alternative chords and simple blues—I, IV, V stuff. Around 2004 or 2005, I started to experiment, and became a bit of a recluse. I bought a lot of recording gear and began trying new things, sitting in front of a microphone and getting comfortable and expressing myself.
You've described your music as a bit of a "throwback" to earlier styles, but you're also trying to move blues and R&B forward, and bridge a gap. You point out that you admire people like Dr. Dre and RZA, as well as Marvin Gaye and Curtis Mayfield.
That's right. I was born in '84, so I grew up in the '80s and '90s. I was listening to things that were contemporary, things that were around when I was in high school. I was bussed into the city from South Austin, and was around kids from all sorts of backgrounds, with all sorts of musical tastes and interests. I soaked up a lot from listening to artists my classmates and friends were into—everything from Dave Matthews to Bob Dylan, from Snoop to Biggie, from Foo Fighters to Nirvana.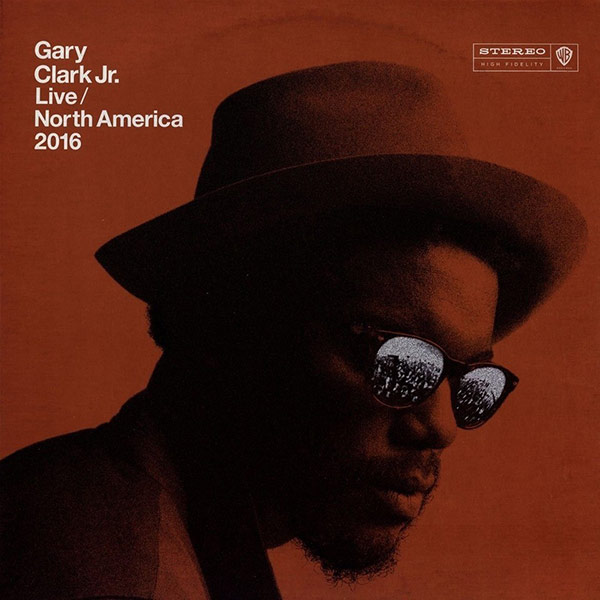 One thing that stands out about Sonny Boy Slim is how well the guitars are mixed. Was that a painstaking process?
That involved lots of conversations. It really came down to "car" mixes, what sounds best in a car. We spent a lot of time making CDs and driving around and listening. We would vary the volume—turn it up and down--making sure we could hear various subtleties and nuances. We spent hours driving around Austin. Playing it all the way through, I wanted to experience different vibes from one song to the next, kind of take a journey. It was always in my mind that it needed to sound great in a car.
You've been playing your Gibson SG regularly for the past three or four years. How did you settle on the SG as a go-to instrument?
It was actually a gift from the Foo Fighters' Pat Smear. He gave me that guitar—a '61 SG Reissue. They came to Austin and asked if I would be a part of the Sonic Highways project, and talk about my experiences growing up in Austin. Of course I agreed. I clicked with the guys and they asked if I would be a part of the album. I showed up with my ES-125, which didn't fit the Foo Fighters vibe. So Pat Smear brought out a '61 SG reissue, which I played. It sounded great. As I was leaving, Pat came up to me and said, "I've got something for you." He handed me that guitar, in the case. I was really moved by that.
What has the SG given you that you didn't have before?
It bites like nothing else I've played. When I pick up that guitar I feel like I can do anything. The feel of it, the way the pickups respond to my playing, the way it bites and can be really nasty, the way it breaks up nicely without any pedals—all those things are great. And then you can switch to the neck pickup and roll the volume down and it has a nice, beautiful, singing tone. I just love the way it sounds. It's also really easy to play.
How do you go about crafting a solo?
A solo is kind of hit or miss. I never want to overthink it. I like to get it on first take and have it be spontaneous. I feel like once I start to think about a solo, it takes away from everything I love about the process, which is improvisation over a groove or a chord progression—being in the moment. It can be frustrating, but most of the time the solos involve just first or second takes.
Do you still practice, in the conventional sense?
That's a battle. I need to. I used to play for 6 or 8 hours—sometimes more—every day, just sitting there not doing anything else. Now, between traveling and spending lots of time on a bus or airplane, there's not a lot of time to be in that sort of focused state. I did see a guy with a "travel" guitar the other day. He pulled it out on the plane and plugged it into his iPad. I suppose it is possible to practice that way.
Are you still learning new things about guitar playing?
For sure. Every chance I get, I try to learn something new. I want to be more technically precise. The guitar is the one thing I've never lost focus or interest in. It takes a lot to keep my attention, and the guitar has kept it for almost 20 years now.
Do you spend much time thinking about your future?
Since becoming a father I do think more about longevity, making smart decisions--things like that. But for the most part I just try to stick to what I know and how I've come up. That involves paying attention, trying to be a better musician, songwriter, producer and arranger—and a better guy, at the end of the day. Each day I wake up I try to be better than I was the day before. That's how I break things down, in all aspects of my life.